My grandmother Carin Liljefors (m Andersson) is the originator of our handicraft tradition. She inherited the artistic gifts of the Liljefors family and made her living as handicraftsman, artist and piano teacher. A refusal letter from the ┼hlÚn & Holm company tells us that she was active as a craftsman in 1919.
.
| | |
| --- | --- |
| Her smallest goats are tiny. The legs are made out of three straws only! | Graphite drawing of two of her larger goats. |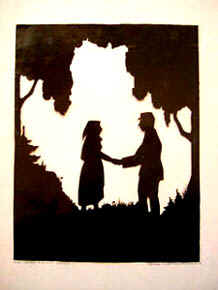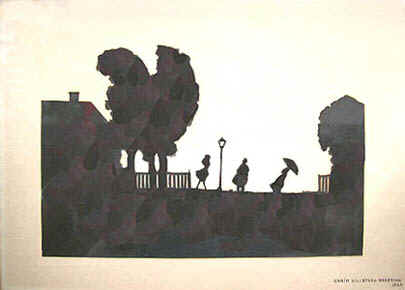 Here are some examples of the exquisite silhouette clippings.
Grandmother's father
.

Carl Liljefors' Cristmas lantern.
Grandmother's father, Carl Liljefors (brother of the great painter of nature Bruno Liljefors), is the originator of the Christmas lantern. Most likely his daughter's silhouettes combined with the novel electric light (this was in the 1920's) inspired him to create a black cardboard lantern with cut out motifs and red silk lining. He presented it to his daughter and suggested she started making them.
My uncle Ulf Andersson has continued and developed the handicraft of his mother's. His straw goats and lanterns are part of the Christmas traditions in many Uppsala homes. In winter time the red light of his lanterns shines from many windows in Uppsala.
..