Banjo Tailpiece
5th String Conversion Kit
Will it fit my banjo?
FAQ
Instructions
Tailpiece and tone
Anders Sterner
Contact
Prices - Order
I was 17 years old when I heard a bluegrass banjo for the first time on the radio. I got goose skin all over my back, I became obsessed with the instrument and my life changed.

I've worked as a surveyor but since 1996 I make my living by intonating fretted instruments so they can be tuned perfectly to equal temperament. I also play in two bluegrass bands: Cold Mountain Band and Sweet Demon.

I did some work on a banjo for a friend (Per Svalander) and we discussed the cons and pros of tunneling the fifth string to the peghead. A couple of weeks later Pe

r

found a special fifth string tuning peg that could be attached with screws through grommets to the instrument neck and came up with the idea to reverse the fifth string and put the tuning peg on the tailpiece.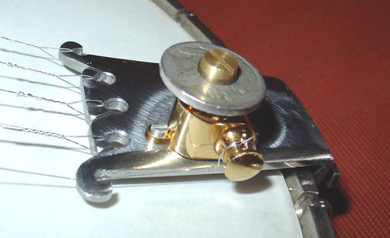 The very first prototype.
That idea wasn't new, but we didn't know that at the time. Per made prototypes in his workshop and emailed photos to me. I provided feedback and about 25 prototypes later we realized we had invented a new banjo tailpiece. The simplest in the world - only two parts including the fastening means - yet more versatile and stable than any other tailpiece!